The inCharge 6 and X are available in both retail and E-Comm packaging.
The inCharge 6 comes in three colors. Mercury Gray, Moon White and Saturn Gold. MSRP $19.99
The inCharge 6 Max comes in Mercury Gray. MSRP $24.99
The inCharge X comes in three colors. Black, Blue and Beige. MSRP $24.99
The inCharge X Max comes in Mercury Gray. MSRP $29.99
InCharge Pro USB-Lightning or TYPEC-Lightning – Retail Packaging – MSRP $24.99
InCharge Pro USB or TYPEC – Retail Packaging – MSRP $14.99
About Product
The inCharge X is so much more than a simple set of cables. It is a multifaceted data transfer device that can work up to 10-times faster than cables from other major brands. Often described as the "Swiss Army Knife of Cables," the inChargeX can charge up to 100W at once. What does this actually mean in real-world terms? It means that you could charge a 4,000 mAh battery (roughly the capacity of a large smartphone battery) in less than 20 minutes!
The Swiss Army Knife of Cables
Ultimately, ultra-fast charging is what you want in a cable, and in this respect, the inCharge X absolutely delivers. With a proprietary built-in chip, the inCharge X can take on a wide range of devices with ease. While USB-C charging will deliver the fasting charging times, the inCharge X is a 6-in-1 charger that can work with all of the following combinations:
USB to Lightning Port
USB to USB-C Port
USB to Micro-USB Port
USB-C to USB-C Port
USB-C to Lightning Port
USB-C to Micro-USB Port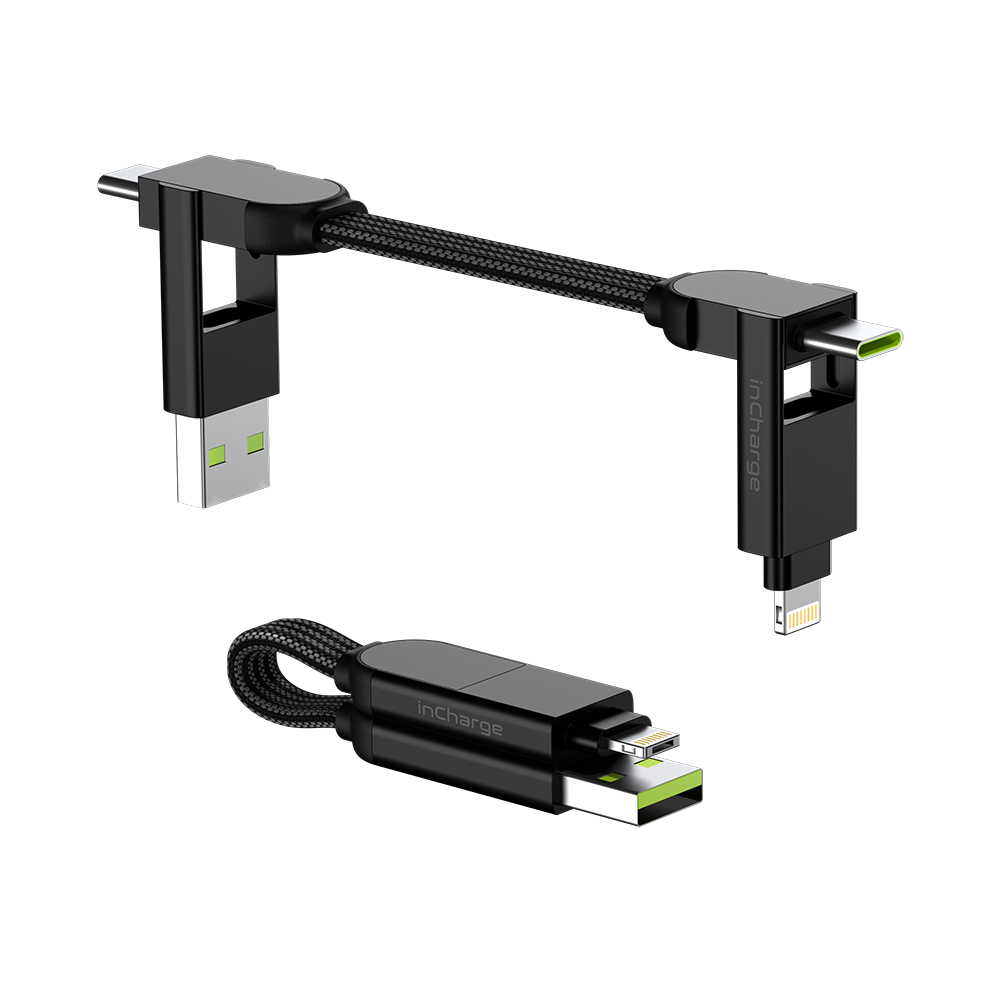 As a result, the inCharge X cable set is designed to work with literally thousands of different brands and devices, from portable tablets to desktop computers. As an added bonus, the USB-C to USB-C functionality also means that you can connect one compatible phone or tablet to another. This allows you to keep a device running with the power of a second device, even when there are no standard charger ports available in the vicinity!
If you're worried about slow data transfer, this is not an issue with the inCharge X. Unlike low-quality, third-party chargers and even the last generation of charging cables that came with many of your favorite devices, the inCharge X can deliver some of the fastest data transfer speeds of any other cable on the market. On average, you can expect to transfer 480Mbit of data per second!
As if all of this were not enough to show the versatility and speed of the inCharge X, it also functions as a keyring cable. This means that you can quickly and easily attach your inCharge X cable to your keyring or similar carrying device to take it with you wherever you go. Enabling keyring attachment enhances the device's portability and ensures that you can charge just about any device in any location.
Finally, it's important to remember that the inCharge X is not flimsy or easy to break. In fact, it is composed of Aramid Fiber that is resistant to bending, heat, and even many corrosive chemicals. A series of 200 braided copper wires ensure that the speed of charging and data transfer is always fast, no matter what kind of environment you're working in. Additionally, the TPU cable guards and nylon reinforcement help reduce the potential damage of frequent bending or exposure to abrasive elements. In short, the inCharge X is one of the strongest and most powerful charger cable sets in existence!
Are you interested in acquiring an inCharge X cable to step up your charging game? If so, you're just a few clicks away!