The TAU comes in three colors. Charcoal Black, White and Agave Green. It is available in both retail and E-Comm packaging.
MSRP $29.99
About Product
Have you ever had to struggle with carrying one or more large, clunky power banks around with you? If so, the TAU is here to solve all of your portable charging problems. As the smallest 3-in-1 power bank ever made, the TAU ensures that you can keep your compatible devices charged on the go, without having to sacrifice a ton of extra space in your pockets, handbag, or luggage.
Weighing in at just 1.4 ounces (roughly 40 grams), the TAU is a testament to the progress manufacturers have made in the realm of charging devices. Just a few years ago, power banks were often heavier than the devices that they were charging! Now with the TAU, you can carry something that's almost as light as a feather, but even more powerful than any other power bank you've encountered!
The smallest 3 in 1 power bank ever made. Always charged, always ready to use.
So, how does the TAU pack so much charging power into such a tiny package? First and foremost, the TAU is built with a 1400 mAh battery capacity and dual Lightning, USB-C, and Micro-USB cables. This ensures that the TAU can keep ample power stored and quickly charge a wide range of devices from some of the leading brands, including Apple, Google, and Android.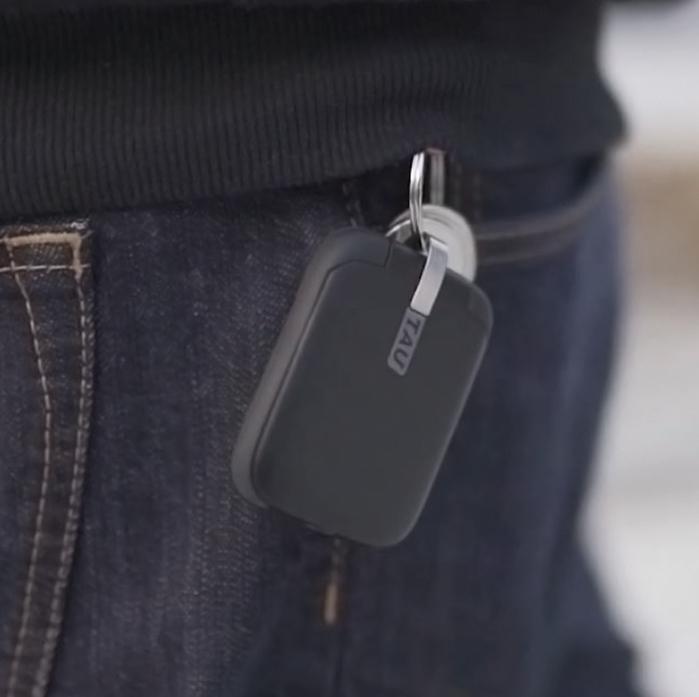 However, the TAU's true power lies in its size and portability. Featuring a magnetic charging dock that can be easily attached to just about any flat service (vertical, horizontal, or somewhere in between), you can keep it charging by your workspace in any environment. You can even attach it to your keychain so that you can bring it with you wherever you go. When it needs another charge, just hang it up on its designating charging station and it will be ready to keep your devices up and running for hours on end!
Finally, it's important to note that the TAU does not require tons of effort to operate or complex settings to manage. Essentially, you can just set it and forget it in a matter of seconds! The simple setup only requires you to place the nano suction layer in the location of your choosing, plug in the cable, and that's it. There has literally never been a smaller or more convenient 3-in-1 power bank than the TAU!
Are you interested in acquiring a TAU power bank to step up your charging game? If so, you're just a few clicks away!